All about Trump, Trump News is only President Trump News. 
Rural help, internet expansion and all about farmers is most of Trump News.   The Left is trying new ways to impeach Trump, so you know is being successful in his agenda, ANTI-Communist, Anti-Fascist, Pro-America.  
---
President to address 99th annual American Farm Bureau Federation convention in Nashville, Tennessee
President Trump will highlight his administration's efforts to help rural communities, including expanding broadband service and cutting regulations on farmers and ranchers, in a speech Monday to the 99th annual American Farm Bureau Federation convention in Nashville, Tennessee.
Rebuilding rural America 
Today, President Donald J. Trump travels to Nashville, Tennessee, to deliver a major address at the American Farm Bureau Federation's Annual Meeting. It will mark the first time since 1992 an American president has spoken at the event.
That symbolism is important. From his earliest days on the campaign trail, President Trump has highlighted the difference in prosperity between rural America and the country's wealthiest coastal enclaves.
One sentence explains why this message resonated across America's interior. It comes from the opening lines of a report from President Trump's Agriculture and Rural Prosperity Task Force, which the President will share during his speech today: "While other sectors of the American economy have largely recovered from the Great Recession, rural America has lagged in almost every indicator."
---
The speculation about President Donald Trump's mental status is "very dangerous," and the 25th Amendment was not made to be invoked when parties don't agree about a president's "emotional makeup," Harvard Law professor emeritus Alan Dershowitz said Monday.
"I have railed against the criminalization of political difference," Dershowitz told Fox News' "Fox & Friends" program.
"The psychiatrist-ization of political difference is much more dangerous. It's what they did in Russia, it's what they did in China, it's what they did in an apartheid South Africa. If you don't like a candidate, first lock them up. If you can't lock him up, commit him to a mental hospital."
---
Prof. George Lakoff: "As a cognitive scientist, I can tell you … constant repetition of Trump's messages embeds them deeply in the brains of millions of people"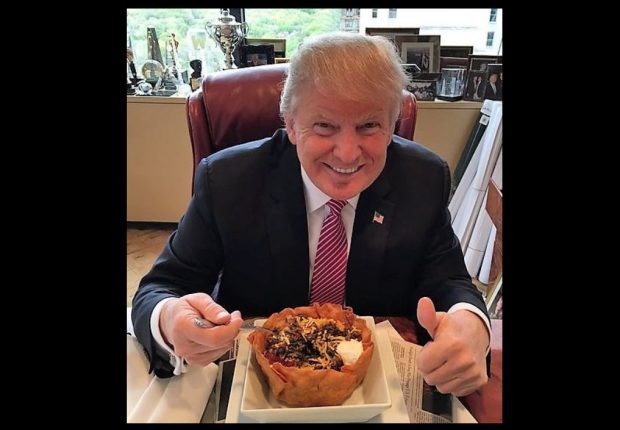 You probably have not heard of  
George Lakoff,
 a progressive linguistics Professor Emeritus at Berkeley.But you have heard of Elizabeth Warren.Particularly Warren's "you didn't build that on your own" speech, which picked up a theme also expressed by
Obama
, that people who are successful only got that way because of the efforts of others and government, so they need to give some of it back:
Warren and Obama didn't build that concept on their own. The verbiage is remarkably similar to that expressed earlier by Lakoff, something I pointed out in July 2012, Obama and Warren cribbed "build it" narrative from progressive Berkeley Professor:
-This progressive is practicing Psychological projection which is a tactic of Democrats.-
You also have heard of Donald Trump. And his Twitter account.
Scott Adams attributes a particular genius to Trump's instinctive tactics, verbiage and tweeting, where Trump's opponents see only childishness and idiocy: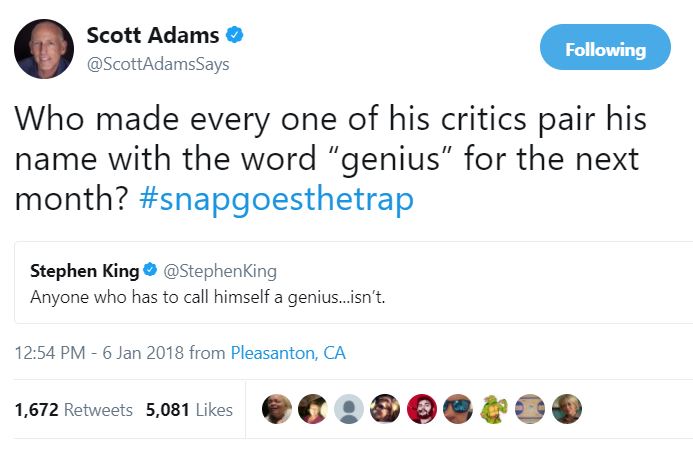 Back to Lakoff.
Lakoff is no fan of Trump, and he focuses on language, so it's interesting to get his take on Trump's tweeting, which Adams has referenced.
Lakoff elaborated on Twitter on the effectiveness of the repetition of Trump's tweets, and how Trump controls both the narrative and the cognition of his messages. It's worth the read through how this progressive linguist evaluates Trump's tweeting. 
---