So many headlines, so busy with holiday week, so easy for Missed Headlines 
Thought are on News Years Eve, not politicians! 
---
It's been said that "pride comes before a fall"… but it might come before winter, too.
Not long after the presidential election, liberal Californians voiced their displeasure with the result using the only mature course of action: They threatened to secede.
It may seem far-fetched, but the "Calexit" movement to leave the United States as a protest against President Donald Trump has picked up a surprising amount of steam, along with similar plans to split the large state into several different territories.
The "leave America" crowd may have been shortsighted, however. California has faced a rash of wildfires that have embarrassingly forced the state to request assistance from the Trump-run federal government — and the area could face an even more serious threat this winter.
According to The Los Angeles Times, a very dry and hot winter season could mean disastrous droughts.  
---
Often seen as a "Republican in Name Only," or RINO, Sen. John McCain (R-Ariz.) has been a thorn in many conservatives' side for many years. Now, information has come out that suggests bad news may be coming his way.
One of McCain's associates could be deeply implicated in the corruption scandal surrounding the infamous dossier on President Donald Trump. David J. Kramer, a former State Department official and friend of McCain, has been subpoenaed by the House Intelligence Committee about his role in the dossier fiasco.
---
Wake Up America: The Nine Virtues That Made Our Nation Great–and Why We Need Them More Than Ever
A legal clash over gay custody rights recently reached the Mississippi Supreme Court as numerous lawsuits work their way through the nation's judicial system.
In the Mississippi custody case, a legally married and then divorced lesbian couple are embroiled in a lawsuit that pits traditional reproductive rights against same-sex marriage. Many such cases have been rising through the appellate court ranks as fallout from the U.S. Supreme Court's decision in the landmark Obergefell case that made same-sex marriage the law of the land.
---
  One of four North Korean soldiers to flee from his oppressive country this year brought back more than first-hand accounts of Kim Jong-Un's tyrannical regime. In a shocking discovery, a routine examination of the military defector revealed that his body carried anthrax antibodies, renewing fears that the rogue state may be weaponizing the deadly biological disease.
Weapons of mass murder
Speaking with South Korea's Channel A news, a local intelligence official said that, "Anthrax antibodies have been found in the North Korean defector who has escaped this year." The unnamed official went on to cite defense analyst Shin Jong Woo's explanation which speculates that the soldier was vaccinated by the North Korean military because of his involvement in the communist state's suspected biological warfare program.
---
Americans have a Winston Churchill in President Donald Trump, Mike Huckabee tweeted Tuesday.
Huckabee recommended moviegoers to watch "The Darkest Hour," a British biographical war drama film that follows Winston Churchill during his early days as prime minister of Great Britain at a time when Adolf Hitler was closing in on Britain.
Huckabee was comparing former President Barack Obama to former British Prime Minister Neville Chamberlain, famously known for ceding a region of Czechoslovakia to Adolf Hitler and for his policy of "appeasement" toward Hitler's Germany.
---
Passive-aggressive attempt to deprive Israeli Jews of their own Middle Eastern heritage and culture by claiming their culinary culture is stolen.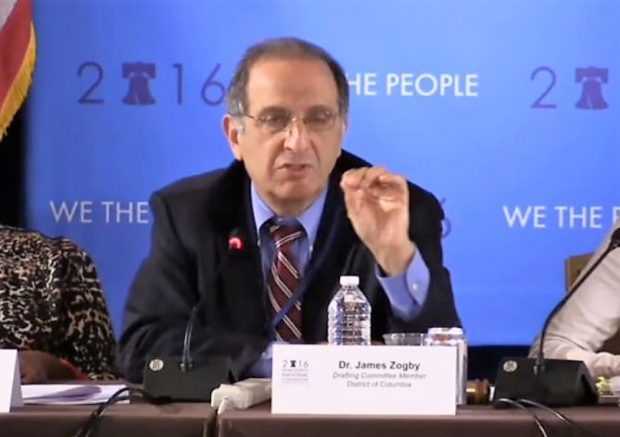 As someone who studies the anti-Israel movement, the outburst on Twitter by pollster and Bernie Sanders backer James Zogby comes as no real surprise.But unless you study the bizarro alternate-universe of Israel hatred, this probably will leave you shaking your head in disbelief.
To anti-Israel activists, be they Palestinian or western liberals, everything Israel does is genocide and ethnic cleansing. The facts matter not. The population of non-Jewish Arab citizens of Israel has grown dramatically since Israel's founding, and Israeli Arabs have the highest life expectancy of anyone in the Arab world. Yet the word genocide and ethnic cleansing routinely is used to describe Israeli Jews actions towards the Arab minority.
So too non-Israeli citizens who live in Judea and Samaria (the West Bank) and Gaza. The populations there also have grown dramatically, so much so that anti-Israel activists pin their hopes on this supposed demographic time bomb. Yet again, genocide and ethnic cleansing routinely are applied to Israeli Jews' treatment of those growing populations.
---
BY CILLIAN ZEAL   DECEMBER 29, 2017
When the United Nations General Assembly voted 128-9 to condemn President Donald Trump's decision to recognize Jerusalem as the capital of Israel, it was seen as a nearly universal — if nearly toothless — rebuke of the president's move.
Yet, just a little over a week after that vote, at least 10 countries are reportedly in talks to move their embassies to Jerusalem, according to a top Israeli official.
According to The Times of Israel, the remarks by Deputy Foreign Minister Tzipi Hotovely came after Guatemala followed the United States' lead and announced it was moving its embassy from Tel Aviv to Jerusalem.
---
Though obstinate NeverTrumpers are loathe to admit it, President Donald Trump has pressed an incredibly conservative agenda while in office thus far, one that largely eschews the "big government" celebrated by liberals in favor of a more pragmatic realism toward getting work done.
A prime example of this is the lack of an ostentatious "state dinner" in his first year in office, an apparent political faux pas the mainstream media is crowing about and wringing their hands over, as evidenced by a widely spread Associated Press piece.
The AP pointed out that Trump is the first president in nearly a century to not host a state dinner at the White House during his first year in office. The last president to act similarly was former President Calvin Coolidge, who assumed office in 1923 after the death of former President Warren Harding, was elected to a full term in 1924. Coolidge finally held his first official state dinner in 1926, when he hosted Queen Marie of Romania.
---
Chelsea Clinton publicly thanked first lady Melania Trump for her decision to replant part of a historic White House tree.
According to The Washington Post, Melania Trump made the final decision to cut down the historic Jackson Magnolia because of its age and damage it has suffered.
While many criticized the first lady's decision, which was recommended by a tree specialist, Mrs. Trump had other plans. She specifically requested that the wood from the 200-year-old tree be replanted in the same area.
---